Draught beer sales dropped 40% in 2020 due to the pandemic. Listen to the experts discuss the relevance of draught beer to craft, communities, and culture. Learn how to get customers, retailers, distributors, and suppliers back into the swing of the draught world from a quality point of view. Hear what's new and review what's old that is now new again.
Learning Objectives:
Promoting draught beer sales in a post-pandemic world
Employing field quality to ensure brand success
Best practices for draught beer "to go"
Economics of draught line cleaning
Panel discussion and Q&A – "Bring Draught Back"
About the Speakers
Paul Gatza, Senior Vice President of Professional Brewing Division
Brewers Association
Paul Gatza is the Senior Vice President of the Professional Brewing Division at the Brewers Association. Paul's origin in the beer community started when he took up homebrewing in 1990. He worked on the bottling line at Boulder Beer and would sneak over to the brewhouse when opportunity allowed. He owned a pair of homebrew supply shops in Boulder and Longmont, Colorado from 1994 to 1998. He served as director of the American Homebrewers Association for 7 years and is in his 22nd year as the head of the Professional Brewing Division. Paul is ranked as a National Beer Judge by the Beer Judge Certification Program. Paul is also a former judge director of both the Great American Beer Festival and World Beer Cup, before moving to the judge panels for these elite competitions.
Bridget Gauntner, Market Quality Specialist
Bell's Brewery, Inc.
Bridget Gauntner became part of the craft beer industry about 11 years ago. After receiving her Bachelor of Science degree in Biology, she was hired to work as a QA lab tech at Great Lakes Brewing Company. From this, she learned so much about the inner workings of production. She spent her days looking through a microscope, swabbing petri dishes, climbing grain trucks to test raw materials, and her favorite part…running a taste panel. She gained a great appreciation for all of the hard work done by folks in the brewery to turn out great beer.
Often, Bridget was a regular consumer buying draught or package beer and was disappointed that the quality of the beer she experienced could be so drastically different from the same beer she enjoyed at the brewery. It made her curious of the causes of these discrepancies. After working in the lab for a couple of years, she was anxious for some change. She wanted to grow and expand her horizons, but still had love for the craft beer industry and was extremely passionate about quality. She wanted to help ensure that consumers could experience beer the way the brewer intended, no matter the distance from the brewery.
Eventually, this path led Bridget to working at Bell's Brewery. She joined the team almost six years ago as a Field Quality Specialist. While touring the brewery as a new employee, she was blown away by the advanced lab equipment being used, and even more impressed with the caliber of people who worked at Bell's. It instilled a great confidence in her for the brand that she had the honor to represent. Having so much trust in Bell's beer quality makes her job pretty darn easy.
Earlier in her career, Bridget joined the Brewers Association Draught Beer Quality Subcommittee and was named Chair in 2019. The collaboration of so many competing brewers working toward the common good of promoting beer quality was what really drew her to the subcommittee. Meeting both large and small brewers echoing the same best practices was very inspiring.
Dana Johnson, Technical Director of Craft Brewing
Birko Corp.
As the Technical Director of Craft Brewing for Birko, Dana Johnson consults craft breweries, wineries, and distilleries on food safety and sanitation practices. He has more than 25 years of experience serving Birko's brew customers and is known in the industry as one of the leading voices on sanitation.
A homebrewer since 1989, Dana has authored numerous articles for Zymurgy, The New Brewer, and other brewery trade publications and is a frequent speaker at industry events. He is a member of the Brewers Association Safety Subcommittee and the current Webinar Committee Chair for the MBAA (Master Brewers Association of the Americas).
Dana joined Birko in 1979 and attended Mesa College in Grand Junction, Colorado.
Charles Kyle, Brewery Representative
Sierra Nevada Brewing Company
Charles Kyle started his career at Sierra Nevada Brewing Co. in 1989 as a bartender in the taproom. After a year behind the bar, he took his draught systems knowledge into the market as manager of Sierra Nevada's local distribution route. For 10 years Charles delivered beer to local accounts, serviced tap lines, and promoted the Sierra Nevada brand in the Chico market. In his current role as Brewery Representative, Charles serves as the resident draught system expert, both at brewery locations and in the local market. He is also active in the Brewers Association Draught Beer Quality Subcommittee.
Matt Meadows, Director of Field Quality
New Belgium Brewing Co.
Matt Meadows started with New Belgium Brewing in 2002. In 2006 Matt became New Belgium's Director of Field Quality. Today he oversees a national team that manages all facets of post-brewery quality throughout New Belgium's distribution in the U.S., Canada, and Europe. Matt is co-author of the Brewers Association's Draught Beer Quality Manual and Draught Beer Quality for Retailers. Matt has also done extensive work with the Brewers Association including serving on the Technical Committee, chairing the Draught Beer Quality Subcommittee, and serving as the Draught Beer Quality Ambassador.
David Munro, Sales Special Projects
Bell's Brewery, Inc.
David Munro brought his love for beer and experience as a chef and restaurant owner to the U.S. from England in 1991. After changing his career path in 1996, David began his professional beer journey, working in both on- and off-premise distribution and in management at one of the largest brewers in the U.S. David joined Bell's Brewery more than 12 years ago in January, 2009. A passion for high-quality beer, not just great beer, is what drives him to seek out "the best pint ever!" Managing Sales Special Projects at Bell's, David's responsibilities include the development and training of Bell's distributor partners (with a focus on specific knowledge and skills that directly relate to the sales, quality, and history of Bell's beers) as well as presenting at beer dinners and events, most recently virtually! David is proud to represent Bell's on the Brewers Association's Draught Beer Quality Subcommittee, particularly concerned with the promotion of craft beer, draught beer, homebrewing, and beer quality in the U.S.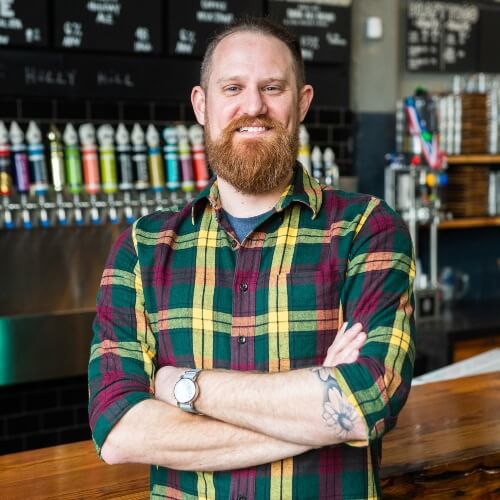 Chris Shields, Director of Education
Rhinegeist Brewery
Chris Shields is the Director of Education for Rhinegeist Brewery in Cincinnati, Ohio, where he performs staff, partner, and public engagement and outreach activities on beer and brewing. Before this role, Chris served as a brewer during Rhinegeist's rapid growth and helped develop their cider program. He was also Head Brewer at Mystery Brewing in North Carolina for four years. With a decade of experience in the industry, Chris is an Advanced Cicerone®, BJCP judge, Certified Cider Professional, and serves on the Education Committee for the Ohio Craft Brewers Association. He holds a MS in Biological Sciences and has studied at Siebel. Chris represents Rhinegeist in the Hop Quality Group, the Brewers Association Draught Beer Quality Subcommittee and is honored to serve as a BA Mentor.
Lauren Torres, Lab Manager
Bell's Brewery, Inc.
Lauren Torres began her career in the brewing industry shortly after graduating from Kalamazoo College with a BA in chemistry. Lauren currently has the pleasure of leading a fantastic team of individuals while serving in the role of Lab Manager at Bell's Brewery. Lauren has gained experience in the chemistry, microbiology, and sensory areas of the brewing laboratory. She has been a crucial player in building quality and laboratory programs at Bell's. Outside of the brewery, Lauren has assisted in teaching with the Siebel Institute of Technology's Quality Course, is currently the Quality Instructor for the Brewers Association's (BA) Basics of Beer Quality Workshop, and has presented at the local and national level at the American Society of Brewing Chemists (ASBC), American Society for Quality Certifications, Craft Brewers Conference, and Master Brewers Association of the Americas (MBAA) conferences. Lauren is an active member in brewing professional organizations through leading the BA Quality Subcommittee, serving on the ASBC technical committee, and joining the MBAA board. Additionally, Lauren has been fortunate to enough participate as a judge in various professional beer competitions locally and internationally, including Copa Cerveza, the Festival of Wood and Barrel-Aged Beer, and the Great American Beer Festival.​​
Ryan Wagner, National Ambassador
Guinness Open Gate Brewery
A Baltimore, Maryland native, Ryan Wagner was lucky enough to be among the first people hired as part of the Guinness Open Gate Brewery project back in 2017. As the National Ambassador for the first Guinness brewery on U.S. soil since 1954, Ryan supports the growth of the Open Gate Brewery and all Guinness initiatives nationwide in a variety of ways. His main areas of focus are developing training and education programming for internal staff and consumers, building on and celebrating Guinness culture and heritage, acting as spokesperson for media and PR requests, leading efforts in regard to beer quality both within the brewery and at retail, focusing on providing memorable and engaging industry hospitality, assisting with product commercialization and sales, and acting in a support role across various other areas. At the heart of it all is a passionate and energetic desire to share the spirit of Guinness with friends new and old, with his love for laughter and storytelling guiding the way. When he's not spreading the gospel of Guinness, you can find Ryan at home in Baltimore's Hampden neighborhood with his wife Amy, cat Ares, and rescue pitbull Otis.
Neil Witte
Craft Quality Solutions
Neil Witte is a 23-year veteran of the craft beer business, spending 19 years as a brewer, then field quality manager at Boulevard Brewing Company and Duvel Moortgat USA. In 2017 he founded Craft Quality Solutions, providing market-based quality services to breweries, distributors, and retailers. In 2020 he founded TapStar, a quality certification program for draught beer retailers. Neil is a technical content specialist for the Cicerone Certification Program and is one of 19 Master Cicerones. He co-authored the Brewers Association Draught Beer Quality Manual and Draught Beer Quality for Retailers.