The Brewers Association (BA) Export Development Program (EDP) works to inform member breweries about opportunities to sell and promote their beers in targeted global markets as well as educate international trade and media about proper storage and care for craft beer as well as the collective quality and diversity of styles created by small and independent American craft brewers.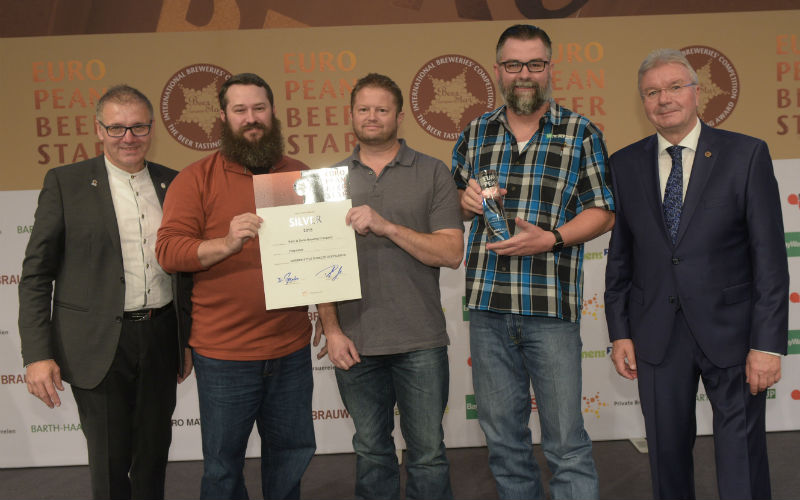 EDP Gains Attention for American Breweries through International Competitions
The EDP sees international competitions as a key mechanism by which to generate publicity for the U.S. craft beer industry and assist EDP subscribers with gaining attention and distribution for their brands in select target markets. As such, the BA covers the cost of a consolidated airfreight shipment to each competition and covers the entry fee for up to three brands per brewery in select international competitions for its member breweries.
2018 marked another year of success for EDP breweries in the European Beer Star and Brussels Beer Challenge. Both of these competitions continue to serve as valuable opportunities to spread the word about American craft beer in Europe and beyond. In total, member breweries won 30 awards at the European Beer Star and 50 awards at the Brussels Beer Challenge.
Brussels Beer Challenge
The Brussels Beer Challenge aims to promote the beer industry in a market that is not only a benchmark for beer, but also home to connoisseurs. Over three days, a tasting panel of 85 internationally renowned beer connoisseurs taste more than 1,500 beers from all over the world. The participating beers are divided into categories based on origin, type, and style, and then evaluated. At the end of the three tasting days, the best beers in each category, will be awarded a gold, silver, or bronze award.
European Beer Star
The European Beer Star, now in its 15th year, is one of the most recognized beer competitions in the world, committed to the traditional European art of brewing. The competition evaluates beers on the basis of purely sensory criteria, and is limited to beer categories that originated in Europe. Overall, in the European Beer Star competition, there were 2,344 beers from 51 countries.
Judging of the beers was performed by an international expert panel at the Doemens Brewing Academy in Gräfelfing near Munich, including 144 beer and brewing experts from 32 different countries, one of whom was EDP manager Steve Parr, who was invited to serve as one of three U.S. judges in this year's competition.
The award-winning breweries are listed below—congratulations to all the winners!
2018 European Beer Star:
Brewery
Beer
Category
Award
Alaskan Brewing Co.
Smoked Porter
Strong Smoke Beer
Silver
Allagash Brewing Company
Saison
Traditional
Belgian-Style
Saison
Bronze
Big Bend Brewing Company
Barrel-Aged Marfa Light
Wood And Barrel
Aged
Strong Beer
Gold
Brewery Ommegang
Saison Rosé
Fruit Beer
Bronze
Denver Beer Co.
Princess Yum Yum
Fruit Beer
Silver
Firestone Walker Brewing Co.
Krieky Bones
Sour And Fruit Sour Beer
Silver
Firestone Walker Brewing Co.
DBA
English-Style
Bitter
Gold
Firestone Walker Brewing Co.
Merlin Milk Stout
Sweet Stout
Gold
Indeed Brewing Company
B-Side Pils
German-Style
Kellerpils
Bronze
Odell Brewing Company
Friek
Traditional Belgian-Style Lambic, Geuze, And Fruit Geuze
Fruit Sour Beer
Bronze
Pelican Brewing Company
Kiwanda Cream Ale
English-Style
Golden Ale
Bronze
pFriem Family Brewers
Oud Bruin
Wood And
Barrel Aged
Sour Beer
Bronze
pFriem Family Brewers
Barrel Aged Saison II
New-Style Saison
Gold
Port City Brewing Company
Monumental IPA
Traditional
India Pale Ale
Bronze
Rahr & Sons Brewing Company
Regulator
German-Style Dunkler Doppelbock
Silver
Reuben's Brews
Robust Porter
English-Style
Porter
Bronze
Revision Brewing Company
Revision IPA
New Style
India Pale Ale
Silver
Revision Brewing Company
Revision DIPA
Imperial
India Pale Ale
Gold
Rogue Ales
St. Chuck's Smoke
Smoke Beer
Silber
Samuel Adams
Samuel Adams Black Lager
Bohemian-Style
Schwarzbier
Gold
Samuel Adams
Samuel Adams Rebel IPA
Traditional
India Pale Ale
Gold
Samuel Adams
Samuel Adams Cream Stout
Sweet Stout
Silver
Saranac Brewery
Saranac Pale Ale
Traditional Style
Pale Ale
Gold
Ska Brewing
Ska Oktoberfest
Red And Amber Lager / Vienna Style Lager
Gold
Societe Brewing Company
The Mistress
New Style Lager
Bronze
The Virginia Beer Company
Elbow Patches
Dry Stout
Silver
Three Weavers Brewing Company
Knotty
Imperial
India Pale Ale
Silver
2018 Brussels Beer Challenge:
| Brewery | Beer | Category | Award |
| --- | --- | --- | --- |
| Boston Beer Company | Samuel Adams Cream Stout | Flavoured Beer : Sweet/Milk Stout | Silver Medal |
| Boston Beer Company | Samuel Adams Pumpkin Ale | Flavoured Beer : Pumpkin Ale | Silver Medal |
| Boston Beer Company | Samuel Adams Rebel Rouser | Pale&Amber Ale : Imperial IPA | Silver Medal |
| Boulevard Brewing Company | Space Camper IPA | Pale&Amber Ale : American IPA (Less Than 6.5 Abv) | Certificate of Excellence |
| DC Brau Brewing Company | Space Reaper | Pale&Amber Ale : Imperial IPA | Bronze Medal |
| Deep Ellum Brewing Company | Local Legend | Flavoured Beer : Sweet/Milk Stout | Gold Medal |
| Deschutes Brewery | Black Butte XXX | Flavoured Beer : Wood/Barrel Aged (Higher Than 10 ABV) | Bronze Medal |
| Deschutes Brewery | Obsidian Stout | Stout/ Porter : American Stout | Silver Medal |
| Firestone Walker Brewing Co. | Feral Brute | Speciality Beer : Brut Beer | Bronze Medal |
| Firestone Walker Brewing Co. | Luponic Distortion | Pale&Amber Ale : American IPA (Less Than 6.5 ABV) | Bronze Medal |
| Firestone Walker Brewing Co. | Union Jack | Pale&Amber Ale : Pacific IPA | Silver Medal |
| Founders Brewing Co. | Porter | Stout/ Porter : Baltic Porter | Bronze Medal |
| Founders Brewing Co. | CBS | Flavoured Beer: Wood/Barrel Aged Higher Than 10% ABV | Gold Medal |
| Founders Brewing Co. | Mosaic Promise | Pale/Amber Ale: American Pale Ale | Silver Medal |
| Founders Brewing Co. | Trigo Hoppy Wheat Lager | Lager: Hoppy Lager | Gold Medal |
| Founders Brewing Co. | Breakfast Stout | Flavoured Beer: Chocolate | Silver Medal |
| Fremont Brewing | Bourbon Barrel Aged Dark Star: Coffee Edition | Flavoured Beer : Coffee | Silver Medal |
| Fremont Brewing | Lush IPA | Pale&Amber Ale : American IPA (Higher Than 6.5 ABV) | Certificate of Excellence |
| Left Hand Brewing Company | Death Before Disco | Stout/ Porter : Porter | Silver Medal |
| Left Hand Brewing Company | Milk Stout | Flavoured Beer : Sweet/Milk Stout | Bronze Medal |
| Odell Brewing Company | Colorado Lager | Lager : American-Style Pilsner | Silver Medal |
| Oskar Blues | Mama's Little Yella Pils | Lager : Bohemian-Style Pilsner | Bronze Medal |
| Paradox Beer Company, Inc. | Salty Lemons | Speciality Beer : Other Sour Ale | Certificate of Excellence |
| Pelican Brewing Company | Beak Bender Hoppinated India Pale Ale | Pale&Amber Ale : Pacific IPA | Gold Medal |
| Pelican Brewing Company | Captain Of The Coast | Flavoured Beer : Wood/Barrel Aged (Less Than 10 ABV) | Gold Medal |
| Pelican Brewing Company | Father Of All Tsunamis | Flavoured Beer : Wood/Barrel Aged Higher Than 10 ABV) | Silver Medal |
| Pelican Brewing Company | Kiwanda Cream Ale | Pale&Amber Ale : Kölsch | Bronze Medal |
| pFriem Family Brewers | Barrel Aged Saison II | Pale&Amber Ale : Modern Saison | Silver Medal |
| pFriem Family Brewers | Brett Saison | Pale&Amber Ale : Traditional Saison | Certificate of Excellence |
| pFriem Family Brewers | IPA | Pale&Amber Ale : American IPA (Higher Than 6.5 ABV) | Gold Medal |
| pFriem Family Brewers | Pilsner | Lager : German-Style Pilsner | Certificate of Excellence |
| pFriem Family Brewers | Sauvignon Blanc Barrel Aged Golden Ale | Speciality Beer : (Less Than 7 ABV) | Silver Medal |
| Port City Brewing Company | Porter | Stout/ Porter : Porter | Bronze Medal |
| Quarter Celtic Brewpub | Crimson Lass | Red Ale : Irish Red Ale | Silver Medal |
| Rahr & Sons Brewing Co. | Oktoberfest | Lager : German-Style Märzen | Silver Medal |
| Rahr & Sons Brewing Co. | Pumpkin Ale | Flavoured Beer : Pumpkin Ale | Gold Medal |
| Reuben's Brews | Daily Pale | Pale&Amber Ale : Session IPA | Gold Medal |
| Revision Brewing | DIPA | Pale&Amber Ale : Imperial IPA | Certificate of Excellence |
| Revision Brewing | Revision IPA | Pale&Amber Ale : American IPA (Less Than 6.5 ABV) | Gold Medal |
| Rio Bravo Brewing Co | NM Pinon Coffee Porter | Flavoured Beer : Coffee | Gold Medal |
| Saranac Brewery / FX Matt Brewing Co. | Saranac Basking In Bourbon Imperial Stout | Flavoured Beer : Wood/Barrel Aged Higher Than 10 ABV) | Bronze Medal |
| Saranac Brewery / FX Matt Brewing Co. | Saranac Haus Lager | Lager : Helles | Gold Medal |
| Saranac Brewery / FX Matt Brewing Co. | Saranac Varick Street Stout | Speciality Beer : Speciality Beer (Higher Than 7 ABV) | Silver Medal |
| Saranac Brewery / FX Matt Brewing Co. | Saranac Gen Iv Session IPA | Pale&Amber Ale : Session IPA | Silver Medal |
| Sierra Nevada Brewing Co. | Hazy Little Thing | Pale&Amber Ale : New England IPA | Silver Medal |
| Sierra Nevada Brewing Co. | Tropical Torpedo | Pale&Amber Ale : Pacific IPA | Bronze Medal |
| Ska Brewing Company | Steel Toe Stout | Flavoured Beer : Sweet/Milk Stout | Certificate of Excellence |
| The Ale Apothecary | Sahalie | Speciality Beer : Other Sour Ale | Gold Medal |
| Wormtown Brewery | Be Hoppy | Pale&Amber Ale : American IPA (Higher Than 6.5 ABV) | Bronze Medal |
| Wormtown Brewery | Birthday Brew #8 | Speciality Beer : Barley Wine | Silver Medal |