Brewers Association (BA) members, we recently updated our member database. If the last time you logged in to our website was before August 25, 2022, your login credentials have changed. Your new username is the email address associated with your Brewers Association account. Your password will need to be updated.
To update your password, request a reset password email here or select Forgot Password under Account (top right corner) on BrewersAssociation.org.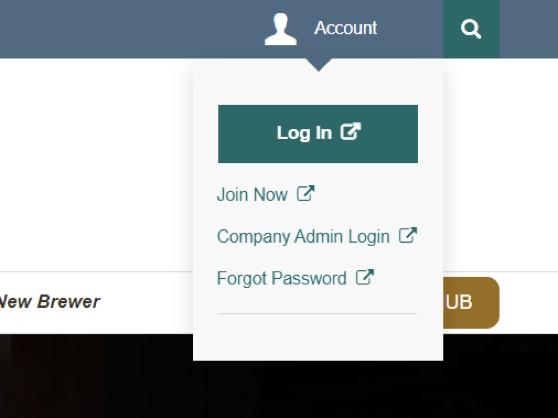 You will receive an email from info@brewersassociation.org with the password reset link. Be sure to check your spam folder if you do not see the message within a few minutes. To ensure that our emails reach your inbox, add our address to your contacts and safe senders list. Click the link in the body of the email to reset your password.
Log in and enjoy your benefits!
Add Employees to Your Roster
Your membership covers all employees at your brewery. Employees on your company's roster can access online membership benefits, receive member communications, and register for the Craft Brewers Conference.
Roster management admins can add and remove employees from the roster by logging into our website. Once logged in:
1. Click "Add/Remove Employees to Company Membership"
---
2. Select "Create New Contact"
---
3. Input employee information and click Save Contact
---
4. The added employee will receive an email to create a password
Note: There can be more than one roster management admin. Existing roster management admins will be able to assign the role to anyone on the company roster. Membership admins can pay BA membership dues.
Having trouble? Can't remember the email associated with your account? Not sure who is your company's roster management administrator? Get in touch with us!
Business Hours
Monday – Friday
8:00 AM to 5:00 PM (MT)
1.303.447.0816 Toll Free: 1.888.822.6273
Email us