Artifacts from the "Father of Homebrewing" added to National Museum of American History
Before the holidays got underway, Brewers Association staff and guests gathered at the Boulder, Colo., office for a celebratory send-off of an old friend. The guest of honor—a simple, wooden spoon—looked rugged yet still charismatic after 40 plus years of experience and Charlie Papazian, BA founder and past president, beamed like a proud parent. As Papazian shared reflections on the early days of homebrewing together, attendees raised their glasses to toast the wooden spoon—and the man—that sparked a movement.
In 1978, Charlie Papazian founded the American Homebrewers Association and began publishing Zymurgy, the leading magazine for homebrewers. Papazian is an inspiration to more than a million homebrewers through his many books, including The Complete Joy of Homebrewing (and its subsequent editions), which many consider the "homebrewer's bible." Yet Papazian was still surprised when the Smithsonian's National Museum of American History reached out to procure some of his brewing tools for the American Brewing History Initiative.
"When the National Museum of American History contacted me, I thought, 'Really? Well, okay.' They wanted help to create a realistic display of homebrewing in the context of the 1970s. We had the brewing basics, nothing fancy," Papazian said.
"One of the required pieces of homebrew equipment everybody needs is a wooden spoon. But not just any spoon, a 'charismatic' spoon," he said. Today, one can find such a unique piece of equipment at a local homebrew shop. "But back then, you went into a department store or a hardware store and tried to find the largest spoon they had. Part of being charismatic is having been used by everyone in the room. This particular spoon was used by hundreds and hundreds of students I taught to homebrew."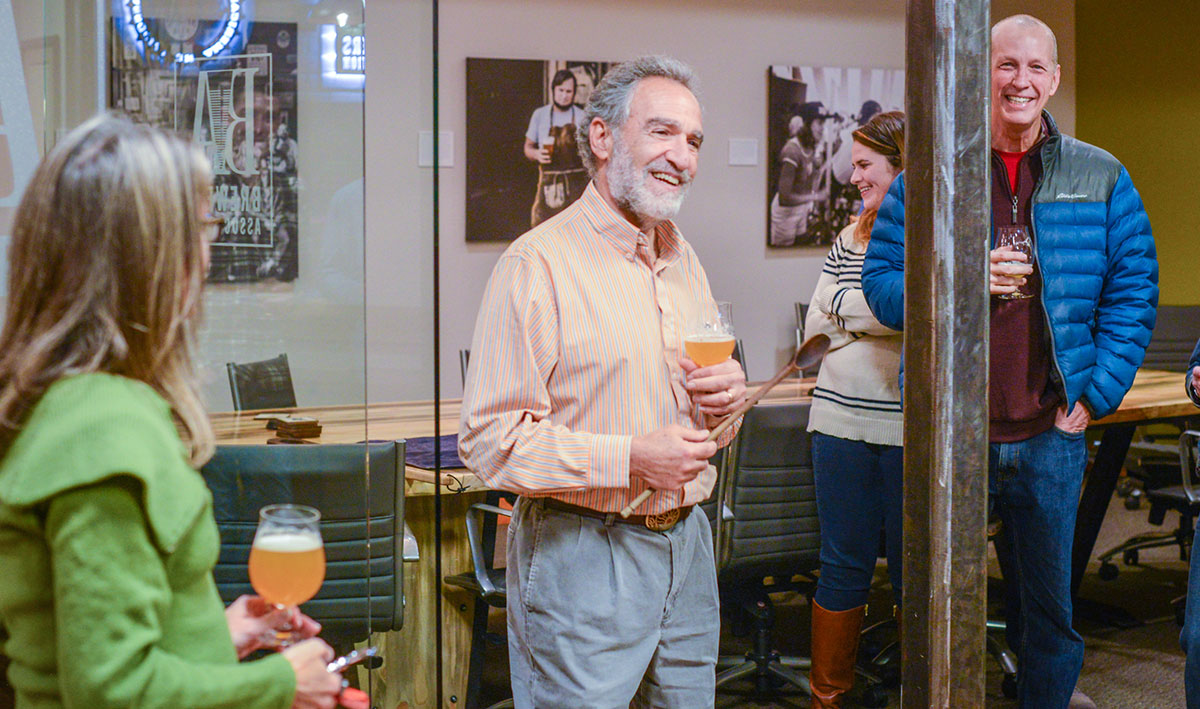 This spoon is one-of-a-kind: notched for easy measuring, stained by dark beer with a well-worn end. "You can tell I'm right-handed," Papazian joked. Staff and guests admired the 18-inch artifact as it was passed around the office one last time before heading to D.C. for the white glove treatment.
"Along with the spoon, I'm sending the National Museum of American History my original, typed two-page instructions for homebrewing that I wrote in college—stained and with my handwriting on it. I still use my journals for brewing and I'm not ready to get rid of those yet," he said. "I feel honored. You never think about the stuff you use every day. Or that people would want to look at it and 'feel the vibes' in a museum."
The spoon recently arrived at its new home in Washington, D.C. "It was very fun to welcome it to the Smithsonian!" said Theresa McCulla, Ph.D., historian for the American Brewing History Initiative at the National Museum of American History, Smithsonian Institution.
The American Brewing History initiative is made possible through a donation from the Brewers Association, the not-for-profit trade association dedicated to small and independent American brewers. The three-year brewing initiative is part of the Smithsonian Food History program and was created in 2016 to collect, document and preserve the history of brewing, craft brewers and the beer industry and explore how brewing connects to larger themes in American history.