Authored by Steve Hindy. Reprinted with permission. Jan/Feb 2014 The New Brewer
Item in The New York Times Sunday magazine, September 8, 2013:
The 5 Most Popular Alcoholic Drinks Among People in the E.R. with Alcohol-related Injuries, according to a Johns Hopkins study conducted among 105 patients over one year in one hospital in Baltimore:
Budweiser
Steel Reserve Malt Liquor
Colt 45 Malt Liquor
Bud Ice
Bud Light
You've probably been asked before about how you, a craft brewer, feel about alcohol abuse or underage drinking. And if you are anything like me, the answer has been something like, "Craft beers cost more than those mainstream beers. I don't think alcohol abusers or young people looking for a quick high are going to pay $10 for a six-pack of Brooklyn Lager." And you may be right, but as craft beer becomes a bigger part of the U.S. beer market, it's important for craft brewers to begin to shoulder some of the responsibility for alcohol abuse in our society.
Until now, that burden has been borne by the large brewers, A-B InBev and MillerCoors, who together account for 74 percent of the U.S. beer market. They have paid for the "Drink Responsibly" campaigns on radio, television, and billboards.
For the last 31 years, the large brewers also have funded the Alcohol Beverage Medical Research Foundation. The ABMRF in turn has funded academic research into the impact of alcoholic beverages on the human body and on society. The annual budget of the organization is $2.5 million. It is completely funded by the beer industry. (See sidebar.) Recent news on underage drinking has been positive. The 2012 National Survey on Drug Use and Health, conducted by the Substance Abuse and Mental Health Services Administration of the U.S. government, found that binge drinking among underage individuals is down 33 percent since 2002. Heavy drinking is down 48 percent. The national study surveyed 70,000 people who are 12 years and older.
"We are encouraged by the positive findings in this report," said Joe McClain, president of the Beer Institute. "Even as underage drinking continues to decline, brewers and beer importers remain vigilant in our efforts to reduce underage use. We are committed to responsibility and will continue working with parents, law enforcement, community groups, and others to discourage anyone under 21 from drinking."
Alcohol Beverage Medical Research Foundation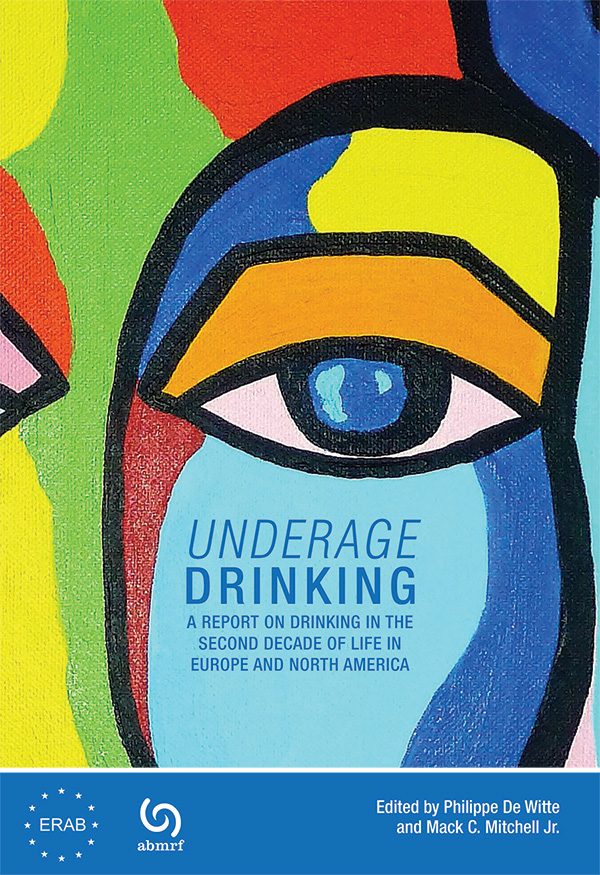 In 2013, the Brewers Association board of directors approved a $25,000 donation to the Alcohol Beverage Medical Research Foundation. The donation was matched by the National Beer Wholesalers Association.
The donation was a first for the BA, although there are 15 craft brewers who support the organization with annual donations.
ABMRF was founded in 1982 when Henry King was president of the U.S. Brewers Association, the predecessor of the Beer Institute. Since its founding, ABMRF has granted more than $42 million to 560 individuals doing research into alcoholic beverages.
The grantees are respected academics at more than 260 colleges and universities. The grants have resulted in 2,278 publications and presentations.
ABMRF is a lean organization, with an annual budget of $2.5 million. It has one full-time staff person and four part-time staffers.
Keys to Prevention
ABMRF and the European Research Advisory Board (ERAB), a sister organization supported by European brewers, recently published a report on underage drinking. Among the key findings, all based on scientific studies: Although rates of underage drinking have decreased in Europe recently and in the United States for more than a decade, underage drinking is still quite prevalent in Europe and North America. Prevalence rates are generally higher in Europe than in Canada and even more so in the United States. Average rates for Europe mask large differences across individual countries in terms of frequency, quantity, and intoxication, with countries showing varied patterns of consumption.
For the most part, the prevalence of drinking is relatively similar for adolescent boys and girls in both Europe and North America, even if significant differences still remain in many countries in the extent of frequent and heavy drinking.
Patterns of drinking in youth across European countries are relatively consistent with the patterns of adult drinking within the same country, although for some countries they match better than others.
The study concludes that peers and parents are keys to preventing early alcohol use and abuse. "That is generally accomplished by asking parents to set standards such as disapproving of 'binge' drinking or drinking outside the structured family/religious settings (meals, religious, or other family events); monitoring their children's whereabouts/behaviors, peer groups, etc.," said Dr. Mack Mitchell, CEO of ABMRF in an interview. "A successful parental program would teach parents what to say to their kids to discourage drinking outside the home and to engage in activities with peers that do not engage in risk-taking behavior."
Parents can also be educated to identify risk factors in the personalities of their children.
"I think we understand some of the risk factors for early onset drinking (family history, lack of supervision, etc.) and we understand that school-based and peer-based interventions as well as family training have value in some settings," said Mitchell. "We know far less about how these factors are modified in different cultures and across different regions/nations where patterns of consumption differ by nationality. We also lack evidence from large scale interventions showing that we can reduce underage drinking by using one particular approach…We haven't implemented programs in a large enough number of schools to see an overall impact. Having said that, the epidemiology shows overall reduction in the number of kids drinking underage over several years, so something is getting better."
In schools in the United States, education about alcoholic beverages is often lumped in with drug abuse courses that counsel, "Just say no." Many European programs include reduction of alcohol use as a viable alternative. Mitchell said a course based solely on alcoholic beverages would be similar to a sex education curriculum.
Staying Vigilant
The trends on underage drinking are good, but the industry cannot afford to rest on its laurels.
"Without doubt, there is progress on all these fronts, but we should not be content with those results, because the situation could easily change in the future," said Mitchell. The report counsels that parents, peers, school instruction, and more research are important to continuing to reduce underage drinking in the United States and Europe. And ABMRF, entirely funded by the beer industry, is important to the establishment of objective, peer-reviewed research on this issue and others.
Some brewers are asking why the industry should continue to fund this research. Mitchell said that ABMRF offers three main benefits to the beer industry:
Provides evidence that the industry cares about the problems arising from alcohol abuse.
Provides factual information and analysis of how alcohol affects health and behavior.
Develops positive relationships with the academics who are studying alcohol impacts now and in the future.
Lastly, the argument that alcohol abusers or underage individuals are unlikely to plunk down $10 for a six-pack of craft beer is a potent one and could establish craft beer as the real "beverage of moderation." And the heavier flavors of craft beer do seem to mean that the craft beer drinker is not drinking the volume of the mainstream drinker and therefore is far less likely to end up in the E.R.