The Global Diversity Equity & Inclusion Benchmark (GDEIB) is an industry leading, evidence-based framework for assessing an implementing organizational diversity, equity, inclusion. Crafted For All, LLC has adapted the GDEIB (with the permission of the authors) for use by small, independent craft beverage producers. In this session, attendees learn how to use Crafted For All's GDEIB-based self-assessment tool to assess 12 areas of common organizational practice and chart a clear course for "leveling-up" their DEI practice.
About the Speakers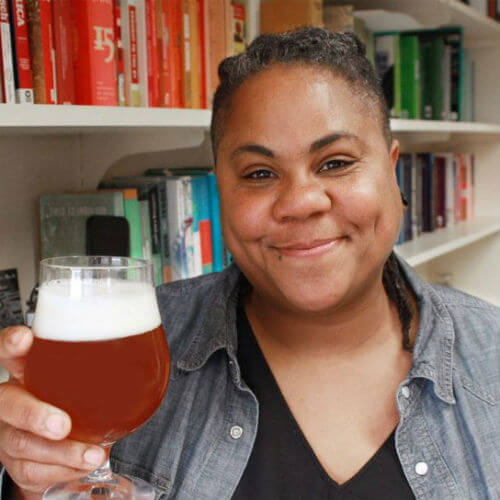 J Jackson-Beckham, Equity and Inclusion Partner
Brewers Association
A former professor of Communication Studies, Dr. J Jackson-Beckham dedicated her academic career to the study of American beer. Today, she helps craft beverage organizations develop inclusive, equitable, and just practices that drive success, build communities, and empower individuals through her consultancy, Crafted For All, LLC. She is also the founder and Executive Director of Craft x EDU (pronounced "craft by E-D-U"), a nonprofit whose mission is to champion equity, inclusion, and justice in the craft brewing community through education and professional development. She is an author, speaker, and vocal advocate for the craft beverage community. In 2018, Dr. J was named the Brewers Association's first-ever Diversity Ambassador. Today, Jackson-Beckham leads the Brewers Association's Diversity, Equity & Inclusion (DEI) department as the association's Equity & Inclusion Partner.
Alana Koenig-Busey, JEDI Project Coordinator
Crafted For All LLC
Alana Koenig-Busey (she/her) is the JEDI Project Coordinator at Crafted For All, a professional development platform that fosters inclusive, equitable, and just spaces and experiences in the craft beverage sector. She also works as the Diversity, Equity and Inclusion (DEI) Project Coordinator at the Brewers Association (BA), directing the BA Mentorship and DEI Mini-Grant programs.
Alana has a background in beverage hospitality management and a professional certification in human resources, SHRM-CP. She also provides training in safe alcohol service through TIPS and bystander intervention through Safe Bars.
Louis Livingston-Garcia, Lead Storyteller
Crafted For All
Louis Livingston-Garcia currently works as a part-time administrator and writer for the Brewers Association's Diversity, Equity, and Inclusion Committee, as lead storyteller for Crafted For All, and helms the Tulip and Schooner beer and spirit newsletter for Heavy Table. He has a brewing and beer steward technology certificate from Dakota County Technical College, and has cleaned kegs, wrapped cans and crowlers, provided barrel tasting notes, and helped brew at Forager Brewing Co., Little Thistle, Tin Whiskers, and Bent Brewstillery. His written work has been featured in many publications, including Growler Magazine, Heavy Table, City Pages, 507 Magazine, Official Xbox Magazine, Game Informer, GamesRadar, October, The Pursuit of Hoppiness, and more. He has professionally photographed Kodiak bears in the wild, Minnesota United FC soccer matches, and countless breweries and beer events. If he isn't traveling around the world with his wife, he is most likely playing soccer, watching soccer, playing video games, or reading with his cat, Miyamoto (yes, named after the creator of Super Mario Bros.), in his lap, and a beer nearby.