THRIVE is a Brewers Association initiative that takes a proactive and holistic approach to addressing diversity, equity, and inclusion (DEI), human resources (HR), and physical and mental wellness in the craft brewing community. THRIVE recognizes that DEI, human resources, and wellness are intimately related components of the workplace experience that are productively enriched when developed together. Through THRIVE, the Brewers Association seeks to establish "thriving human beings" alongside safety, quality, and sustainably, as cornerstones of a healthy, responsible, and profitable craft brewing industry.
The THRIVE Workshop at the 2022 Craft Brewers Conference provided attendees with an opportunity to take a deep and integrated dive into DEI, HR, and wellness topics tailored for craft brewers of all sizes. Featuring guest speakers, educational seminars, hands-on workshops, networking, and opportunities to connect with experts, the THRIVE workshop was an opportunity to develop a range of people-focused practices that elevate small businesses.
Keynote
Scottie Carter, JD is the executive vice president of Diversity, Equity, and Inclusion for the Greater Twin Cities United Way. A graduate of Howard University School of Law, Carter worked for more than 15 years on issues of inequity as a professional, community organizer, and volunteer. At the Greater Twin Cities United Way, Carter is a catalyst for intentional change who challenges the status quo in the service of building a more diverse and equitable organization that serves the community. Carter will speak to THRIVE Workshop attendees about the power of community engagement and the opportunities small businesses have to affect positive change.
About the Speakers
Betty Bollas, President and Co-Owner
Fibonacci Brewing Company
Betty Bollas has 15 years of experience in workforce development and human resources. In addition to owning Fibonacci Brewing Company in Cincinnati, Betty was also employed as the head of human resources for a multi-million dollar non-profit with over two hundred employees across the state. Betty is a Society of Human Resources Certified Professional, a member of the Brewers Association (BA) Board of Directors, serves on the BA Taprooms Committee, and is Chair of the new BA Human Resources Committee.
Scottie Carter, Vice President of Diversity, Equity and Inclusion
Greater Twin Cities United Way
Scottie Carter joined Greater Twin Cities United Way as Vice President of Diversity, Equity and Inclusion in August 2021. In this role, he serves as a catalyst for intentional change, identifying disparities, challenging the status quo and fostering inclusion to help create a more diverse and equitable organization that serves the community with equity at the center. Scottie works with internal and external partners to champion diversity, equity, and inclusion throughout the Greater Twin Cities and beyond.
Scottie has worked on issues of inequity for over 15 years as a professional and as a community organizer and volunteer. A graduate of Howard University School of Law, Scottie has spent years in the corporate space, where he partnered with internal business units to help set company-wide diversity and inclusion goals.
Holly Haslam, Human Resources Partner
Brewers Association
Holly Haslam recently joined the Brewers Association as the Human Resources (HR) Partner. Originally from the Great Beer State of Michigan, she moved to Colorado in 2019 with her husband and dog. A graduate of the University of Northern Colorado with a Masters degree in Business Administration and emphasis in Human Resource Management, Holly volunteers her time with the Boulder Area HR Association as their Co-Vice President of Programming. With experience introducing HR functions, employee engagement initiatives, and training and advancement programs to companies, she specializes in helping small organizations build programs that aid in employee professional development and retention. Holly utilizes the insight and experience she has gained working within small organizations to equip breweries with the knowledge and resources needed to take care of their most valuable assets—their people!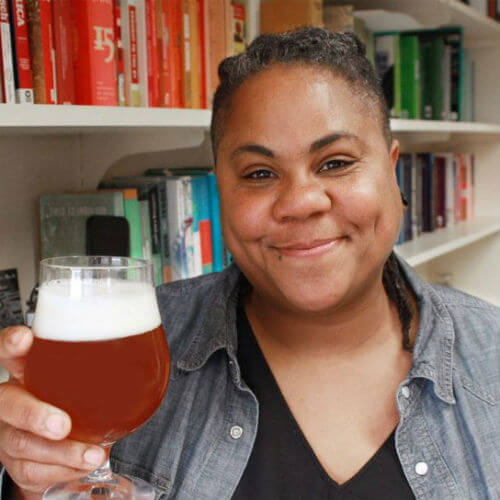 J Jackson-Beckham, Equity and Inclusion Partner
Brewers Association
A former professor of Communication Studies, Dr. J Jackson-Beckham dedicated her academic career to the study of American beer. Today, she helps craft beverage organizations develop inclusive, equitable, and just practices that drive success, build communities, and empower individuals through her consultancy, Crafted For All, LLC. She is also the founder and Executive Director of Craft x EDU (pronounced "craft by E-D-U"), a nonprofit whose mission is to champion equity, inclusion, and justice in the craft brewing community through education and professional development. She is an author, speaker, and vocal advocate for the craft beverage community. In 2018, Dr. J was named the Brewers Association's first-ever Diversity Ambassador. Today, Jackson-Beckham leads the Brewers Association's Diversity, Equity & Inclusion (DEI) department as the association's Equity & Inclusion Partner.
Virginia Morrison, CEO
Second Chance Beer Company
Virginia Morrison is the Chief Executive Officer, Chief Legal Officer, and a co-founder at Second Chance Beer Company in San Diego, California. Previously a successful private-practicing attorney and C-suite executive, Virginia spearheads strategic company initiatives and business units, including sales, the "giving second chances" philanthropic program, team talent and company culture, and community and political outreach. In addition to being a Brewers Association (BA) Board Member and Chair of the BA's Diversity Equity & Inclusion (DEI) Committee, Virginia is the President Emeritus of the San Diego Brewers Guild, where she started the guild's DEI Committee to advocate for underrepresented groups in craft beer. Virginia is an avid mindfulness practitioner and rejuvenates by meditating in India, relaxing in Savasana, running in the rain, and drinking her namesake beer "Legally Red."