Craft beer generates tens of billions of dollars annually for the U.S. economy. Despite beer's Egyptian and African heritage, these traditions have been mostly forgotten and are rarely found in American brewing culture. Today, Black-owned breweries make up less than 1% of the nearly 9,000 breweries in operation. Eager to shift the historical perception of who makes and drinks beer, Black brewers, brand owners, and influencers across the country are reshaping the craft beer industry and the future of America's favorite adult beverage.
This roundtable discussion followed a screening of the film One Pint at a Time and includes film contributors moderated by Brewers Association Equity and Inclusion partner Dr. J Jackson-Beckham.
About the Speakers
Alisa Bowens-Mercado, Owner & Brewmaster
Rhythm Brewing Co.
Alisa Bowens-Mercado is the founder and owner of Rhythm Brewing Co. in New Haven, Connecticut. Affectionately known as "Lady Lager," she made history by becoming the first African-American, woman-owned beer brand in the State of Connecticut.
Alisa, a professional salsa dancer and owner of Alisa's House of Salsa (since 2000), glided on to the beer scene in 2018. Her passion for music, dance, and beer have played a significant role in her life. Both of Alisa's grandmothers were lager drinkers. On occasion, they would listen to music, dance, and sip on a good brew. Alisa remembers her grandmother telling her that the key to success was "Finding Your Rhythm in Life."
Recognizing a significant gap in the $114 billion beer industry, she has made it her mission to tap into an "untapped" and under served demographic in the country.
Her story has been featured both nationally and locally by ABC, NBC, FOX affiliates, Fox Soul, NBC Universal, and 75+ news publications, including Martha Stewart, the Associated Press, Thrillist, and IMBIBE. Just recently, GNL named Rhythm Brewing as one of the "Top 10 Breweries around the World owned by Women."
Mickey Bryant, Founder & President
Black and Brew Chicago, Inc.
Mickey Bryant, M.S. is the founder and president of Black and Brew Chicago, Inc. Black and Brew Chicago, Inc. is a charitable nonprofit organization advocating for a more welcoming, diverse, equitable, educated, and inclusive craft beer industry by-way of education, community outreach, and employment opportunities.
Mickey is a Diversity Ambassador and Cicerone program Certified Beer Server, has been enjoying craft beer for over 20 years, and has 20 plus years' experience in corporate training development, design, and delivery.
Recognizing that educating the consumer would be the most effective path to creating a more diverse craft beer community, Mickey developed a Consumer-Focused Educational Diversity, Equity and Inclusion Strategy Model. The model includes course development and delivery, collaborations with local breweries to host learning experiences to educate underrepresented demographics on craft beer, and a scholarship award program. The model has proven to be successful and, as a result, over the past three years, Black and Brew Chicago, Inc. has expanded to include Black and Brew Cleveland, Black and Brew Youngstown, Black and Brew Delaware, and Black and Brew Indianapolis chapters.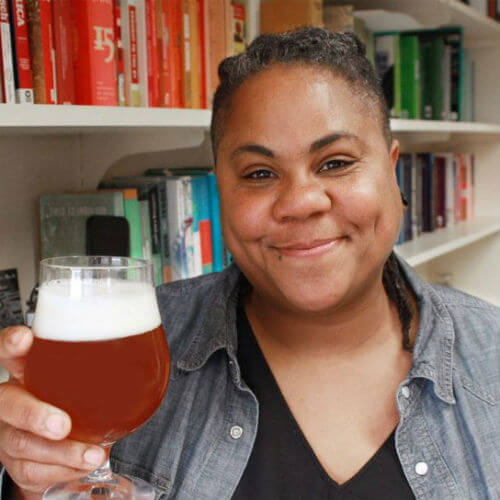 J Jackson-Beckham, Equity and Inclusion Partner
Brewers Association
A former professor of Communication Studies, Dr. J Jackson-Beckham dedicated her academic career to the study of American beer. Today, she helps craft beverage organizations develop inclusive, equitable, and just practices that drive success, build communities, and empower individuals through her consultancy, Crafted For All, LLC. She is also the founder and Executive Director of Craft x EDU (pronounced "craft by E-D-U"), a nonprofit whose mission is to champion equity, inclusion, and justice in the craft brewing community through education and professional development. She is an author, speaker, and vocal advocate for the craft beverage community. In 2018, Dr. J was named the Brewers Association's first-ever Diversity Ambassador. Today, Jackson-Beckham leads the Brewers Association's Diversity, Equity & Inclusion (DEI) department as the association's Equity & Inclusion Partner.
Jon Renthrope, CEO & Brewmaster
Cajun Fire Brewing Company
Jon L. Renthrope, 34, is a native New Orleanian and member of the United Nation of Houma Indians, an indigenous tribal community located in the bayou region of Southern Louisiana. He is CEO of Cajun Fire Brewing Company, the first Black/Native owned brewing company in the U.S. South, and an internationally recognized brewmaster by trade profession. Renthrope is also recognized as a cultural ambassador for the historic Treme' Community, is an alumnus of St. Augustine High School, serves on the executive board of 100 Black Men of Metro New Orleans, serves on the executive board of the New Orleans Regional Black Chamber of Commerce, and is an alumnus of The University of Florida, from which he is an honoree of the 40 under 40 club. Renthrope is a member of Kappa Alpha Psi Fraternity, Incorporated, he serves as lead project manager of The New Orleans East Cultural Hub, CEO of Levee World, and COO of Bridge Forest Investment Corporation. He is married, a father of two, and currently resides in the Gentilly community of New Orleans.
Ale Sharpton, Journalist & Entrepreneur
Dennis Malcolm Byron aka Ale Sharpton is a world-renowned beer authority, award-winning journalist, blogger (AleSharpton.com), photographer, event planner, host, speaker, and beer judge, to name a few of his roles. While passionately traveling the globe to cover everything from automobiles to culinary scenes, celebrity profiles, sports, hotel destinations, art, and what he terms "the world's best beverage," Ale has contributed to more than 30 magazines and websites combined. His current media outlets include Thrillist.com, Craft Beer & Brewing, CraftBeer.com, USAToday, ButterATL.com, James Beard, Lifestyle, Atlanta Magazine, and others. Ale has also recently launched his own beer called Piano Keys—a chocolate vanilla imperial stout—alongside brewing giant New Belgium, geared to support diversity and racial equality through various initiatives.
Along with being featured in various publications on the web, radio, podcasts, television, beer fests, conferences, and ongoing Cruisin' For A Brewsin' video series, Ale utilizes his Cornell University School of Hotel Administration education and vast work experience to consult in the culinary industry as well. Forbes, Smithsonian Institution, Untappd, and numerous others have showcased Ale's accomplishments.
Ale also owns AllWays Open Creative Solutions, an agency specializing in creative direction, logo design, branding, web design, video production, photography, consulting, and social media. This agency also produces various events including product launches, automobile exhibits, restaurant tastings, festivals, and art shows. Lexus, Loews Hotels, Heineken, Bon & Viv, New Belgium, Delirium, Monday Night Brewing, Pabst, Cathead Vodka, SVEDKA, Woodchuck Cider, Long Drink, Wicked Weed, Jekyll Brewing, and elite artist Hebru Brantley are just some of the many clients who have worked with AllWays Open.
Although a native New Yorker, Ale proudly calls Atlanta his home.