The U.S. has unfortunately fallen behind other countries in terms of beer presentation. Small and independent craft brewers devote a lot of time, effort and resources to make the best possible beer for consumers. Ingredients are hand-picked, the latest technical advances in brewing are used and batches of beer are tested before the final product is sent into the trade. Once it is released, the help of wholesaler and retailer partners is needed to ensure the beer is presented in the manner in which it was meant to be enjoyed. For on-premise retailers, the final destination in this journey is presentation at their bar or restaurant, and glassware is a key component.
Both large and small brewers agree that proper glassware is important to both the sensory side of beer enjoyment and retailer profits! Did you know using a style specific glass can increase the profit of a given brand by up to 19 percent?* Taking advantage of this opportunity for increased profits begins with these two steps:
1. Selecting Proper Glassware
Visiting pubs and ordering a beer in Europe, consumers receive beer poured in the proper glass for that particular style of beer. In many cases you also get the proper brewery logoed glass as well. Here in the U.S., craft beer drinkers often receive their beer in the shaker glass. The shaker glass, which was originally designed to shake cocktails, has become the glass of choice for craft beer served in on-premise establishments. This practice is often debated. One way to compare the effect of glassware is to pour beers into different shaped glasses and see if you notice a difference in aroma and flavor. You'll find that proper glassware enhances the beer experience and the shaker glass does not.
Glassware options have come a long way and we need to and should be showcasing these options. The shape of the glass affects the flavor and aroma of the beer. Pilsner glasses are designed a specific way for that style. There are India pale ale (IPA) glasses that have unique shapes that let the pungent nose from the hops to explode out of the glass and allow the consumer to enjoy the beer using more senses than just taste.
2. Ensuring Glassware is Beer Clean
Cleanliness is also key for proper beer presentation. No matter what vessel you select, it needs to be "beer clean." A glass that isn't properly cleaned will look unappealing and also affect the taste of the beer.  If you wouldn't send your food out on dirty plates, why would you send beer out in dirty glasses?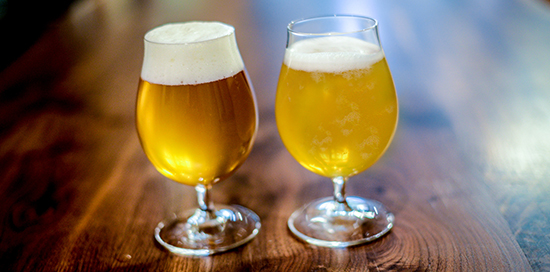 Beer is experienced by our eyes, nose and sense of taste. Proper glassware and cleaning helps showcase all the sensory qualities each craft beer has to offer.
*George Reisch, Anheuser-Bush InBev
---
This article was written by the market development committee as part of the BA Insider—a free email publication sent quarterly by the Brewers Association. Each issue covers topics relevant to craft beer distributors.