A Message From the CEO
Fighting For You
---
Protecting and Promoting Business
Federal Government Affairs
The Brewers Association successfully fought to ensure that breweries—omitted from draft legislation—were eligible to receive grants through the $28.6 billion Restaurant Revitalization Fund (RRF). Thanks to our efforts, approximately 1,600 breweries received more than $450 million in grants. The BA continues to advocate for additional funding for small hospitality businesses that were left out of the first round of RRF grants.
In the fight for fair treatment for craft brewers, the Brewers Association submitted comments to the Department of the Treasury on wholesaler consolidation, unfair state franchise laws, and restrictions on direct-to-consumer sales. The comments aim to elicit more stringent antitrust enforcement by federal competition authorities, enlist federal help to expose unfair and protectionist state laws, and secure more rigorous and effective enforcement of federal trade practice laws.
2021 saw the introduction of the USPS Shipping Equity Act, a top legislative priority for the craft brewing industry. The act would help small and independent breweries meet consumer demand by giving the USPS the same ability as private carriers to ship alcohol in states where it is legal to do so. This legislation is beneficial to breweries, consumers, and the postal service.
---
Protecting and Promoting Business
State Government Affairs
The Brewers Association has long supported state brewers guilds, providing resources to ensure small brewers have equitable access to markets, fair tax rates, and sensible regulations.
With the successful passage of federal excise tax rate recalibration for brewers, the Brewers Association board of directors approved a new strategic goal to pursue state-law policy objectives in collaboration with the guilds. One of those objectives is expanding opportunities for direct-to-consumer (DtC) sales. With many aspects of alcohol law decided at the state level, securing DtC shipping rights will require significant changes. The Brewers Association developed resources to assist guilds in their efforts to extend or make permanent these abilities, producing a Legal Primer on Direct-To-Consumer Beer Sales and working with several guilds to advance DtC shipping in their states.
In what could be a significant threat to craft brewers, liquor company interests have embarked on a campaign to lower state excise tax rates on liquor-based ready-to-drink (RTD) products and give them parity with beer in terms of distribution and retail sales. The Brewers Association, together with a national beer working group and multiple state guilds, worked to oppose such efforts by developing talking points and messaging for guilds to combat state legislation aimed at lowering taxes for RTD products; and supplying guilds with market analysis and data to support reasonable policy outcomes.
In addition to holding regular all-guild calls, the Brewers Association developed an extensive range of guild assets from daily legislative updates to discussion on topics such as safety protocols, hosting events during a pandemic, and the use of the independent craft brewer seal.
---
Industry Snapshot
---
Supporting Business Health
Technical and Quality Resources
In 2021, the Brewers Association continued to prioritize brewery safety, addressing critical issues such as heat stress and kettle boilovers. The association's free online Brewery Safety Training reached more than 14,000 registered users with over 66,000 lessons completed through 2021.
In April, the Brewers Association launched the free Hazard Reduction Practices for Cleaning Draught Beer Lines course. Developed for brewers, wholesalers, and retailers, the online training provides guidance for the proper cleaning of draught beer lines, with an emphasis on OSHA compliance. The two-week course was funded through a Susan Harwood Training Grant awarded by the U.S. Department of Labor. The course continues in 2022 with funding from a second Harwood grant.
The Brewers Association furthered its commitment to public hop research in 2021. At a pop-up event called Hopsource held during the fall harvest in Yakima, 20 experimental lines were evaluated, adding valuable brewer input to the agronomic data that determines acceptability for growers. Through the combined efforts of researchers, brewers, and trade associations, a new public hop variety—Vista—was recently released for commercial use.
The pandemic continued to greatly impact the supply chain for craft brewers, particularly cans and CO2. The Brewers Association provided timely updates on shortages and disruptions along with practical guidance to improve operations such as Know Before You Buy: Beer Can Specifications.
---
Supporting Business Health
Educational Resources
With industry education as an organizational core value, the Brewers Association in 2021 set out to provide members with tools to streamline operations, adapt to new challenges, and enhance innovation. Members enjoyed a bumper crop of new resources in the form of white papers, in-person workshops, certificate programs, and more.
The Brewers Association produced more than 50 educational webinars throughout the year, covering topics from conserving carbon dioxide to developing a diverse employment pipeline. Special broadcasts helped brewers navigate federal relief programs, take action to prevent sexual harassment in the brewery, and address supply chain shortages.
The association's marquee publication, The New Brewer, explored themes both timeless and timely: raw materials, sales and marketing, technical brewing, industry analytics, packaging, and the changing landscape of beer.
In September, more than 7,000 brewing industry professionals convened in Denver for the 38th annual Craft Brewers Conference & BrewExpo America (CBC), the first in-person CBC since 2019. Three days of seminars and workshops offered countless opportunities for personal development, business growth, and connection with friends old and new.
The Brewers Association wishes to thank the many members who donated their time and expertise to committee work and to the development of new educational resources.
---
Building a Diverse & Inclusive Craft Beer Community
---
Driving On-Premise Sales
Taprooms and brewpubs fought to regain their footing in 2021, and the Brewers Association marshaled extra resources to help.
As travel picked up in the spring of 2021, the Brewers Association partnered with TripAdvisor, the world's largest travel planning app, to raise the profile of small and independent craft breweries. When users made plans for weekend getaways and road trips, area breweries were given prime billing, and a dedicated team of Brewers Association staff assisted breweries in optimizing their presence on the travel platform for maximum impact. In total, small and independent breweries saw more than 22 million impressions.
The association's three core "beer holidays"—American Craft Beer Week, National Independent Beer Run Day, and Small Brewery Sunday—called on beer lovers everywhere to support indie craft brewers with their dollars. The Brewers Association created asset toolkits for each holiday containing images, videos, and copy to assist brewery marketers in their promotions. Social media buys, local and national media pitches, and a continued partnership with Untappd helped drive consumer awareness and engagement.
In store for 2022: The Brewers Association will intensify efforts to promote the independent craft brewer seal, which more than 5,600 breweries have adopted. The association will encourage further activations among brewers while also driving increased awareness among beer lovers.
---
Growing American Craft Globally
The Brewers Association's Export Development Program (EDP) continued its work to fuel demand and grow awareness for U.S. craft brewers in key international markets.
Despite the pandemic's impact on travel and events, the EDP's global network allowed for promotion of American craft beer at shows in Asia, Latin America, and Europe. Each event increased international consumer, trade, and media awareness as well as distribution opportunities for Brewers Association members.
American craft brewers are viewed as leaders in the global craft beer arena, as evidenced by a strong showing at beer competitions in Europe, Japan, and Australia. The EDP facilitated U.S. brewery participation in four major competitions by covering entry fees, customs, and shipping logistics.
Online marketing and virtual tastings facilitated engagement with consumers and trade members in Japan, France, the United Kingdom, Iceland, Denmark, Finland, the Netherlands, Norway, China, and Canada. The "American Craft Beer Around the World" badge on Untappd generated 256,000 unlocks and 2.5 million impressions outside the U.S.
Lotte Peplow, the BA's American craft beer ambassador to Europe, generated 90 international media articles with an estimated readership of 4.8 million. The EDP Member Resources page continued to provide exclusive access to invaluable resources, including an importer directory, market research studies, presentations on international markets, FAQs on exporting beer, and more.
---
Brewers Publications
Brewers Publications supports the mission of the Brewers Association by publishing books of enduring value for amateur and professional brewers. In 2021, Brewers Publications released two books, bringing its total number of titles to 63, with 56 available in paperback and eBook, and one audiobook.
Written for professional craft brewers and avid homebrewers alike, Brewing with Cannabis offers practical instruction and recipes, explores the unique characteristics of cannabis plants and their similarities to hops, and examines the physiological effects of terpenes and cannabinoids. This book is especially useful to brewers seeking information on the responsible and state-legal use of cannabis in brewing.
Part how-to guide, part cookbook, and part reference manual, The Fermentation Kitchen is a wide-ranging introduction to the fundamentals of fermented vegetables, condiments, sausage, dairy products, meat, bread, vinegar, kombucha, and other live-culture foods. With easy-to-follow information that is both technical and practical, this book seeks to help readers improvise and adapt new knowledge to safely create novel flavors and unique fermented foods, using beer when possible.
---
American Homebrewers Association
In 2021, the AHA continued to promote the art and hobby of homebrewing with a theme to "share the love of homebrew." A new monthlong celebration entitled "FeBREWary" featured a video contest focused on "Why do you love to homebrew?" Annual homebrew holidays Big Brew and Learn to Homebrew Day invited participants to share their passion for homebrewing with their friends, family, and community. August featured a monthlong sweet celebration of mead, while autumn welcomed craft beer enthusiasts to "fall in love with homebrewing."
The National Homebrew Competition awarded more than 120 medals in 40 categories to amateur brewers and homebrew clubs worldwide during the awards ceremony livestream. The 2021 competition evaluated 5,045 homemade beer, mead, and cider entries from 2,037 homebrewers in 50 states and 13 countries.
Homebrew Con was celebrated online over three days with 780 participants, 36 speakers, and 27 educational sessions. Marcus Baskerville, co-founder of Weathered Souls Brewing Company and founder of the Black Is Beautiful initiative, delivered the keynote address. Attendees were invited to brew Black Is Beautiful stout to toast during the kickoff.
On December 1, Julia Herz joined the American Homebrewers Association as its new executive director. Herz, an award-winning homebrewer, BJCP certified beer judge, Advanced Cicerone®, and beer educator, has more than two decades of experience in the brewing industry, including two prior roles at the Brewers Association.
---
Financials
---
About Us
A Passionate Voice for Craft Brewers
The Brewers Association is a 501(c)(6) not-for-profit trade organization of brewers, for brewers, and by brewers. Our purpose is to promote and protect America's small and independent craft brewers, their beers, and the community of brewing enthusiasts.
Members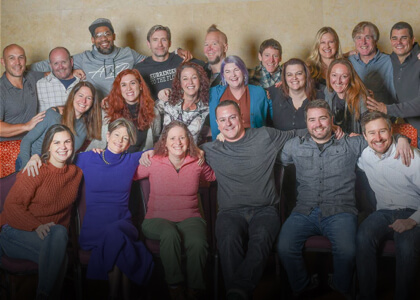 Board of Directors
Committees
Team