Independence Pays
Independent craft beer outperforms Big Beer acquired brands on key measures. There's money on the table. Take advantage by displaying the independent craft brewer seal in your business.
What is the Seal?
The independent craft brewer seal is a certification mark that clearly identifies truly independent craft, something beer drinkers want to know. Over 75% of all independent craft volume has already joined the movement and signed up to use the seal.
Adopting the Seal Pays
Independent craft beer is purchased by more people, more frequently and more is spent per purchase vs. Big Beer acquired brands. The seal identifies independent craft and steers consumer behavior.
More People

24% higher household penetration.

More Spent

12% larger purchase size.Data sourced from the Nielsen Company, 2018.

More Frequently

Purchased 43% more frequently per year.
Identify Independent Craft Brewers
Double check which brands are true independent craft by looking for the seal next to their listing.
From cooler clings to coasters, here are just a few ways you can use the seal to identify the independent craft brands beer drinkers seek.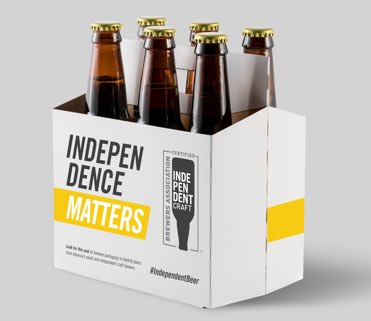 Celebrating the Independent Beer Movement
The Brewers Association (BA) has launched a new national awareness campaign, "That's Independence You're Tasting." This integrated advertising campaign is part of the BA's ongoing efforts to support America's small and independent craft brewers and their retail partners.